Yunycom proudly presents an assortment of analyzers by the company Sysmex which are the latest word in automated urine analysis.
PRODUCTS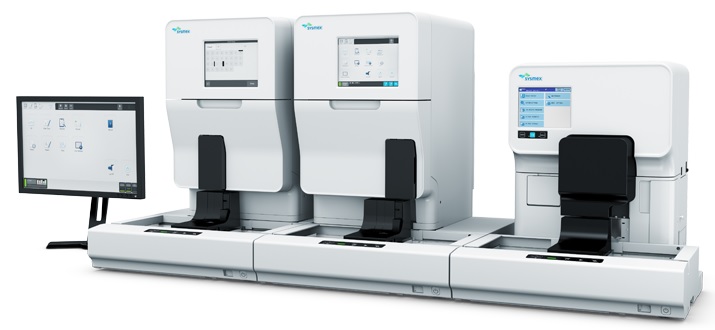 Sysmex UN-Series
Sysmex offers fully automated urinalysis workflow solutions on a premium level. Analysing native urine without any pre-treatment prevents the known sources of error inherent in conventional urinary sediment analysis. Full automation means unattended analysis with ample walk-away time, increasing your lab's productivity.
The new UF-5000 and UF-4000, based on our globally renowned fluorescence flow cytometry and with body fluid analysis available at the flick of a switch, will benefit laboratories of any size.
Our UC-3500 is a fully automated chemistry analyser that takes test strip analysis further, with both microalbumin and creatinine analysis on board. For smaller workloads, the semi-automated chemistry analyser UC-1000 is the right choice, whether used integrated or stand-alone.
Adding our digital imaging unit, the UD-10, provides a seamless urinalysis workflow – from sample entry to digital image.
› more info
Sysmex UC-1000
Sysmex UC-1000 is a semiautomatic urine test strip reader. Apart from it's impressive speed (480 test strips per hour) it also boasts an extremely intuitive software, connection abilities with LIS, two types of test strips (10 and 12 parameter strips) as well as a database of 5000 results.
› more info